Laminating Pouches – Adhesive backed (100 count)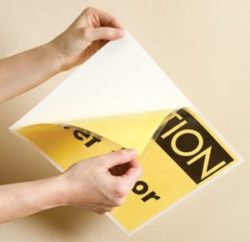 Laminating Pouches – Adhesive backed (100 count)
$47.00 – $99.00
Highest Quality pouch with peel-n-stick backing
Size: 3 mil (9" x 11-1/2" and 11-1/2" x 17-1/2")
Protects documents form dirt, stains, moisture and abrasions
Adheres to any smooth, dry, flat surface
Combine sizes and mil weights for maximum quantity discounts
Quantity Discounts on 10 or more boxes of 100 pk!
Adhesive-backed laminating pouches (also known as sticky-back) pouches offer the same protection that regular laminating pouches offer but also includes a peel-and-stick backing. Not only will your documents be protected from dirt, moisture, stains, and abrasions just like with regular laminating pouches, but you can now adhere your pouch to any smooth, dry surface.
Instructions for Use
Insert your document or printed graphic into the laminating pouch

Run the pouch through your thermal laminator at the appropriate activation temperature

When the pouch has cooled, peel off the release liner and adhere to any dry, flat surface
Our adhesive-backed laminating pouches come in letter size (9" x 11-1/2") or menu size (11-1/2" x 17-1/2"). All pouches are available in 3 mil weight and come in boxes of 100.