Pouch Laminator – Akiles Pro-Lam Ultra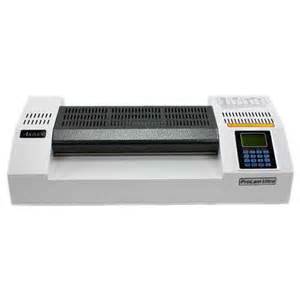 Pouch Laminator – Akiles Pro-Lam Ultra
$569.00
Superior quality and functionality
Speed Control: 9 Settings
Auto shutoff
Number of Rollers: 6 (4 Heat / 2 Cold)
One year manufacturer warranty
The Akiles Pro Lam Ultra possesses superior quality and functionality combined with commercial grade design. Its 6 roller heat system produces professional, crystal-clear and bubble-free pouches every time, good for photos. The 13″ throat allows the machine to laminate a wide array of pouch sizes.
Features:
Speed Control: 9 Settings

Laminates 3 mil to 14 mil thickness

Number of Rollers: 6 (4 Heat / 2 Cold)

Lamination Speed: 53″ per minute

Digital Temperature Display & Keypad

Reverse Function

Memory Settings: 7 Presets

Air Cooling System

Auto shutoff

Removable Cover

Metal Construction

Weight: 33 lbs.