Laminating Pouches – Antibacterial (100 count)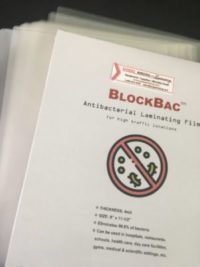 7 in stock
Laminating Pouches – Antibacterial (100 count)
Designed for two-sided lamination
Perfect for high traffic areas
Blocks 99.8% of bacteria / 100 % washable
Combine sizes and mil weights for maximum quantity discounts
Quantity Discounts on 10 or more boxes of 100 pk!
New BlocBac antibacterial thermal laminating pouches are designed to block 99.8% of bacteria. These pouches come in 4 mil weight, perfect for a variety of uses, and not only do they block bacteria while keeping your documents safe from dirt, moisture, stains, and abrasions, but they're also 100% washable. Pricing Link: Pouches – P
BlockBac antibacterial thermal laminating pouches are perfect for high traffic areas such as hospitals, restaurants, schools, day care facilities, gyms, and medical or scientific settings.
They come in 9" x 11-1/2" and can be trimmed to size (make sure to leave at least an 1/8" border around each edge.