Laminating Pouches – Large (100 count)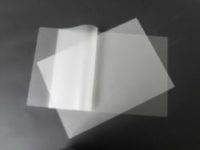 Laminating Pouches – Large (100 count)
$15.00 – $94.44
Highest Quality
Designed for two-sided lamination
Mils: 3, 5, 7, and 10
Temperature: 275 to 340 degrees
7 size options
Combine sizes and mil weights for maximum quantity discounts
Quantity Discounts on 10 or More Boxes of 100 pk!
These large laminating pouches are made from high-quality polyester/adhesives to give you clear professional lamination every time, keeping your documents protected from dirt, moisture, stains, and abrasions. Large laminating pouches feature rounded corners for durability and safety and are pre-cut in a variety of sizes.  
The 3 mil pouches are flexible and easy to bend, fold, and score. They're perfect for school projects, notes, maps, etc.  *3 mil pouches are only available in 6×9, Letter, Legal, & Menu sizes.
5 mil pouches are slightly more rigid, but are still easy to fold or score. They work well for laminating  documents that need protection but not rigidity.
The 7 mil pouches are more rigid but still maintain some flexibility; they work well for menus, calendars, and labels. 
The 10 mil pouches are extremely rigid, similar to a credit card, and very durable. They are perfect for items such as menus, that need to endure handling, exposure to moisture and dirt, and can flex without creasing.