Manual Punch for binding- Flexi Punch M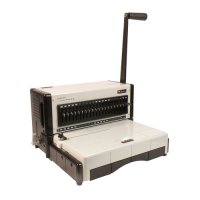 Manual Punch for binding- Flexi Punch M
$599.00
Modular punching machine with manual operation
Price includes one die of user's choice: Comb, 4:1 Coil, 3:1 Wire, 2:1 Wire
Punching Capacity: up to 25 sheets
One year manufacturer warranty
The FlexiPunch-M is an innovative modular punching machine with manual operation and an affordable price that gives you the binding options you need in everyday work. You can do a coil binding job, and moments later squeeze in a wire or comb binding project using the same primary punch. The high-quality precision die sets available with this machine will last for years of production. One die of your choice is provided with the unit.
Flexi-Punch M manual 
Flexi-Punch M brochure
Features: 
• Punch Capacity: Up to 25 sheets of 20lb paper per lift.
• Interchangeable Die Sets with Quick Die Change Design 
• Fully Disengageable Pins on all Dies
• Choice of 4 Different Punch Dies: Choose from Comb (rectangular holes), Wire 2:1 (square holes), Wire 3:1 (square holes) and Coil 4:1 (0.2475″) (round holes).
• Adjustable Depth Margin
• 12″ Single Punch Length with Open Ends
• All metal construction.  Non-skid feet.
• Weight: 24 lbs.