Comb Binding: 19 ring Plastic (100 Count)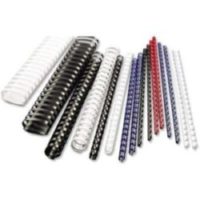 Comb Binding: 19 ring Plastic (100 Count)
$2.50 – $51.00
Flexible binding allows for addition or removal of pages
Diameters: 1/4" to 2" (15 sizes)
19 ring (10-3/4" length)
Stock Colors: Black, White, Clear, Navy Blue & Blue
Combine sizes and colors for maximum volume discounts
Quantity Discounts on 20 or more boxes of 100 pk!
Plastic Comb Binding is a flexible binding option that allows for the addition or removal of pages after the document is bound. Comb bindings allow you to bind pages from 1/4″ to 2″ in thickness. (19 ring, 10-3/4″) Other Colors Available: Maroon, Red and Hunter Green (Minimum Quantities May Apply) Pricing Link: Comb Binding-p
TIP: the size should always be 1/8″ larger than the thickness of the book when figuring sheet capacity.  Add to your presentation by choosing a cover that will meet your specific need.
Need more information on how to select the right comb for your project? Check out our Comb Diameter Guide. Combine sizes and colors for maximum volume discounts. Contact our office for a quote on Custom Imprints