Comb Binding Machine – Comb Mac 24E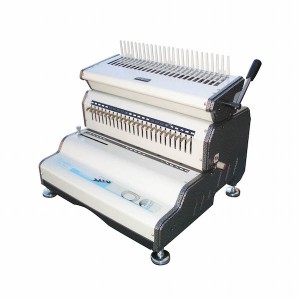 Comb Binding Machine – Comb Mac 24E
$1,210.00
Electric Punch & Manual Binder
Heavy duty design
Punch capacity: up to 25 sheets (20 pound paper)
Binding capacity: up to 2"
One year manufacturer warranty
The Akiles CombMac-24E is designed with print shops and other high-volumes applications in mind. With its many efficiency features such as foot pedal operation, high volume punch capacity, anti-jam feature, and reversible comb opener handle, the Akiles CombMac-24E allows the user to work more quickly and comfortably while binding. 

The open punch sides allow the user to bind longer documents (up to 14"), and the built-in measurement tools, allow the user to quickly determine what size combs are needed. The foot pedal operation allows for optimal hands-free use. 
Learn More
Akiles CombMac-24E user manual
Manufacturer's brochure
Features
Reversible comb opener handle

Open punch sides

Foot pedal switch

Punch margin control

Side margin control

Auto reverse feature

Large waste drawer

Safety ratings & quality control

Weight 70 lbs.