Electric Punch for Binding – FlexiPunch E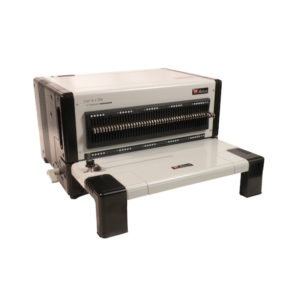 Electric Punch for Binding – FlexiPunch E
$1,599.00
Electric punch with interchangeable die
Punch capacity: up to 20 pages (20 pound paper)
Price includes one Die choice: 4:1 coil, comb,
3:1 wire, 2:1 wire
One year manufacturer warranty
The Akiles FlexiPunch-E electric modular punch with interchangeable die (sold separately) is a true two-for-one deal. With the purchase of one machine and compatible die sets (purchased separately), you can punch 4:1 coil, 2:1 or 3:1 wire, and/or comb.  With a heavy duty motor set into all-metal construction, you'll never have to worry about how long your machine is going to last, or whether or not it'll be able to handle your project—you can just rest assured it's going to work.
If you're looking for a durable, versatile machine, choose the Akiles FlexiPunch-E electric modular punch.
Learn More     
Akiles FlexiPunch-E User Manual
Manufacturer's brochure

Features
All metal construction

Heavy duty motor & gearbox

Interchangeable die with Quick Change Design

Fully disengageable pins

Adjustable punch margin

Open sided punch tray

Auto reverse feature

 Weight: 51 lbs.