Comb Binding Machine – AlphaBind-CE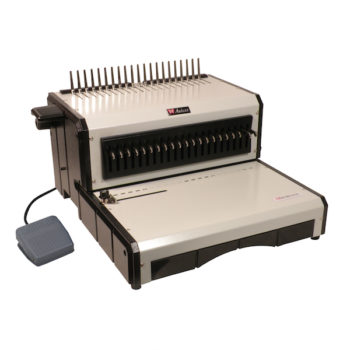 Comb Binding Machine – AlphaBind-CE
$969.00
Electric Punch, Manual Comb Binder
Designed mainly for letter-sized sheets
Binding capacity: up to 2"
Punch capacity: up to 20 sheets (20 pound paper)
One year manufacturer warranty
The Akiles AlphaBind-CE is a perfect comb binding machine for small office and home use. Designed mainly for letter-sized sheets, don't think that the AlphaBind-CE skimps on features! With fully disengageable die pins, side and depth controls, and foot pedal operation, this comb binder will do everything you need to keep your jobs running smoothly and efficiently.
Features
All metal construction
Foot pedal switch
Fully disengageable pins
Punch margin control
Side margin control
Large waste drawer
Weight: 61 lbs.
Learn More
Akiles AlphaBind CE user manual
Manufacturer brochure