Coil Inserter: Finish@Coil E1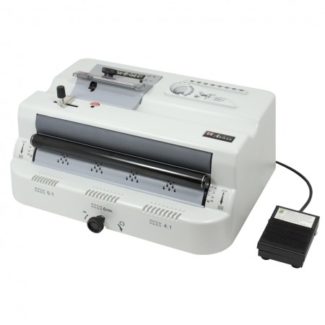 Coil Inserter: Finish@Coil E1
$839.00
Automatic inserter and crimper
Built for speed, ease and efficiency
Accommodates coils up to 50mm
Foot pedal operation
One year manufacturer warranty
The Akiles Finish@Coil-E1 Coil Inserter is built for speed, ease, and efficiency. With its automated processes, built in electric crimper, automatic mode selector sensor, and adjustable rollers and crimper, the Finish@Coil-E1 will keep your production line clipping along smoothly. The foot pedal operation allows the operator to keep his hands free, and the automatic mode selector sensor automatically switches the foot pedal operation between "insert" and "crimp," allows the operator to spend less effort overall.
If you need high performance for high volume workflow, you need the Akiles Finish@Coil-E
Learn More      
Akiles Finish@Coil-E1 User Manual
Manufacturer's brochure
Features
Adjustable bottom rollers

Automatic mode selector sensor

Built in electric crimper

Adjustable crimper head

Foot pedal operation

U-shaped alignment channel

Synchronized roller/crimper adjustment

Built-in measurements—allows user to verify coil diameter

Weight:  18 lbs.