Laminator Cleaning Kit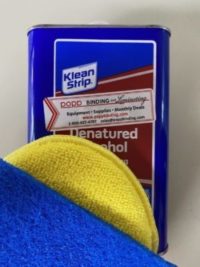 Laminator Cleaning Kit
$19.99
Proper equipment maintenance
Cleaning Fluid, Scrubbing Pad, Soft Cloth
Keep your machine running smoothly!
Proper maintenance with our cleaning kit of your rubber rollers will keep your equipment running for years to come.
Includes: Cleaning Fluid, Scrubbing Pad, Soft Cloth
Apply the denatured alcohol to the Scotchbrite scrubbing pad and gently rub the rollers until the adhesive is removed. Be careful not to damage the roller by rubbing too hard. When the adhesive has been removed wipe the roller clean with the soft cloth.
Please do not use exacto blades or straight edges to clean your rollers.
Always refer to your machine manual.