Roll Laminator – Phoenix 2700-DH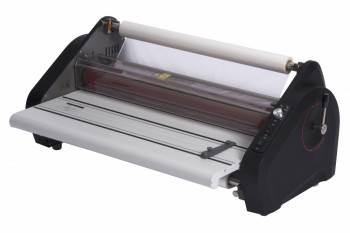 Roll Laminator – Phoenix 2700-DH
$1,755.00
Laminating width: up to 27"
Film gauges: 1.5 mil & 3 mil
Film core size: 1" and 2.25"
Speed: variable, up to 6 feet per minute
One year manufacter warranty
Contact our office for shipping and availability
The Phoenix 2700-DH Dual Heat Education Model Roll Laminator with its multiple safety features and compact design make it ideal for use in schools and larger offices. The quick warm-up time, silicone-coated heated rollers, and easy-to-align top and bottom rolls mean less time spent setting up and performing maintenance. The chain & sprocket drive and rugged metal components make this roll laminator durable and dependable. If you're looking for a roll laminating machine that is both economical and feature rich, then take a look at the Phoenix 2700-DH Education Model Roll Laminator.
Features
Variable speed—adjustable speeds to allow best results with different film thicknesses

Adjustable tension—for optimal results on any material

Clear safety shield—allows user to see their work and reduces injuries by not running when shield is removed

Reverse switch—for clearing misfeeds

Auto shut off—turns off after three hours of non use for increased safety and energy savings

Auto standby mode—automatically enters standby mode after thirty minutes of non use and holds temp at 176º for two hours

Silicone heated rollers—for easier cleaning

Easily aligned top and bottom rollers—for simpler installation and consistent results

Dimensions: 36.5″ (L) x 16″ (H) x 18″ (W)

Weight: 120 lbs.