Roll Laminator – Phoenix 2700-DHP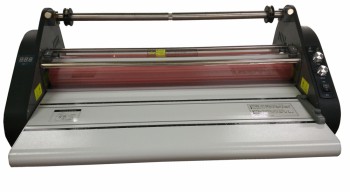 Roll Laminator – Phoenix 2700-DHP
$2,549.00
Maximum flexibility in the production environment
Film Thickness: up to 10 mil
Price includes FREE shipping (dock to dock - extra charges may apply (lift gate)
One year manufacturer warranty
27" Roll Laminator:
•Laminating width: up to 27"
•Max film gauge: up to 10 mil
•Film core size: 1" and 2.25"
•Speed: up to 10 feet per minute
Dimensions:  36.5″ (L) x 16″ (H) x 18″ (W)
Description

The Phoenix 2700-DHP Dual Heat Production Model is designed for maximum flexibility in the production environment. Built-in safety features including safety latches on the feed tray and a clear safety shield that must be in place for the machine to run mean users can work faster with less concern for safety. If you want an economic heated roll laminator for your printshop or bindery, the Phoenix 2700-DHP is just what you're looking for.
Features
Variable speed—adjustable speeds to allow best results with different film thicknesses

Adjustable tension—for optimal results on any material

Adjustable rollers—can gap from 1/16" to 1/4" for mounting

Cooling fans—allows for laminating with a wider range of film thicknesses

Clear safety shield—allows user to see their work and reduces injuries by not running when shield is removed

Reverse switch—for clearing misfeeds

Auto shut off—turns off after three hours of non use for increased safety and energy savings

Auto standby mode—automatically enters standby mode after thirty minutes of non use and holds temp at 176º for two hours

Silicone heated rollers—for easier cleaning

Easily aligned top and bottom rollers—for simpler installation and consistent result

s