Roll Laminator – Akiles ProLam R27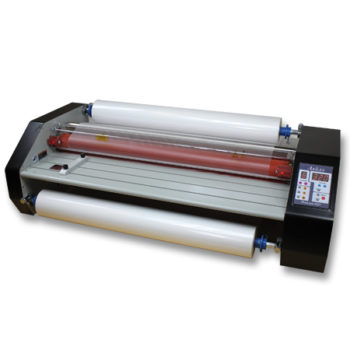 Roll Laminator – Akiles ProLam R27
$2,299.00
27" Industrial-strength Roll Laminator
Maximum film thickness: 10 mil
Safety features and sleep mode
Speed: variable, up to 3.6 ft/min
One year manufacturer warranty
Contact our office for shipping
The ProLam R27 is a heavy-duty Akiles roll laminator that is capable of laminating widths up to 27″ and boasts a long list of features that make it a great option for school and business use. With its no tool tensioner, speed and temperature guide, and intuitive LED control panel, accompanied by its built-in safety features including locking heat shield and input tray, as well as sleep mode, the Akiles ProLam R27 is a great option for multiple users. If you're looking for an industrial-strength roll laminator with a table-top footprint, the Akiles ProLam R27 is perfect!
Learn More
Akiles ProLam R27 user manual
Manufacturer brochure
Manufacturer video for the Akiles ProLam R27
Features
Wide laminating width–for use with any project up to 27″ wide

Sleep mode–shuts off heat after 2 hours of idle time for optimal energy use 

 Safety latches on heat shield and feed tray–ensures machine can only be used when ready for improved user safety

Reverse switch–for fewer jams and easier unjamming

Large heated rollers–accommodates thick items
Laminating Width: Up to 27″

Max film gauge: 10 mil

Film core size: 1″

Warm-up time: 20 min.

Speed: variable, up to 3.6 ft/min

Weight:  100 lbs.