Laminating Film: General Purpose/Standard, Clear 1″ core – Clearance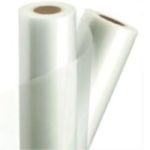 Laminating Film: General Purpose/Standard, Clear 1″ core – Clearance
$6.00 – $39.00
Highest Quality
Works best and adheres to most light to medium ink coverage
Designed for two-sided lamination
Temperature: 275-315 degrees
Combine sizes for maximum quantity discounts
General Purpose polyester based films are designed for two-sided laminating. The most ideal film that bonds well to copies and inkjet papers. It works best and adheres to most light to medium ink coverage. This film is ideal for school and educational purposes.   Film weights:  1.5 mil and 3 mil
General Purpose Film is meant to run between 275º and 315º,
but please check your roll laminator's user manual for specific
temperature instructions.
Because roll laminators require two rolls of film to operate, we package our rolls of film two to a package.
Rolls are priced per roll, but you must order in increments of two.
Check out all of our laminating film options here!