Badge Holder: All-In-One Event (100 count)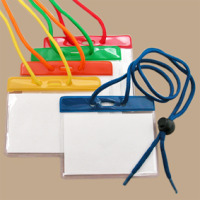 Badge Holder: All-In-One Event (100 count)
$65.00
Perfect for any event
Pre-assembled and Horizontal
Color matched holder and lanyard
36" Braided Cord
Two sizes: Small and Large / 7 color options
Contact our office for pricing on larger quantities
The pre-assembled Horizontal Color-Coded Badge Holders come with a 36" braided cord lanyard and black cord lock and are color-matched to the badge holders. These badge holders come in two sizes and are perfect for any event!
Large: 4.38" x 3.75" (inside); 4.70" x 4.50" (outside)
Small: 3.85" x 2.68" (inside); 4.10" x 3.50" (outside)
Colors: White, Black, Royal Blue, Green, Red, Orange, and Yellow
Quantity: 100 per size/color

View our catalog for even more options!