Badge Holder–All-Weather Zip Seal (100 count)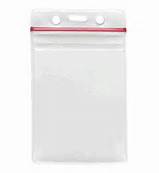 Badge Holder–All-Weather Zip Seal (100 count)
$59.00
Compatible with any credit-card-sized item
Perfect for bus passes, ID Cards, and so much more
Zip closure keeps out dirt, grime, and moisture
Two style options
For use with a lanyard, strap or loop
All-Weather Zip Seal badge holders are perfect for bus passes, ID Cards, and so much more! The red zip top closure keeps out dirt, grime, and moisture, and the slot allows for use with our clear luggage strap loop, lanyards, or retractable badge clip. Available in both horizontal and vertical orientations, the All-Weather Zip Seal Badge Holders are compatible with any credit-card-sized item.
Vertical
Inside dimensions: 2.38" x 3.88"
Outside dimensions: 3.00" x 4.95"
Standard slot/chain holes
Horizontal
Inside dimensions: 3.63" x 2.75"
Outside dimensions: 4.25" x 3.70"
Standard slot/chain holes
View our catalog for even more options!