Badge Buddies (25 count)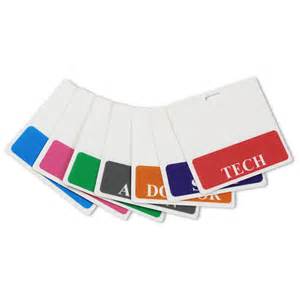 Badge Buddies (25 count)
$56.00
Instant role identification
Variety of pre-designed styles and colors
Designed to extend below your existing badge
Vertical or Horizontal
For use with lanyards, badge clips or retractables
Badge Buddies provide instant role identification for care providers so patients can easily recognize who they are and what their job capacity is. Badge Buddies are placed behind existing ID badges and clip into place with your lanyard or retractable badge clip. The colored identifier portion is designed to extend below your existing badge, whether horizontal or vertical. 
Badge Buddies can also be customized with additional job descriptions or colors, and can also be printed with emergency procedures, hospital codes, or important numbers. For customization, contact one of our friendly sales team members at 800-437-4787 for a quote!
Codes: LPN, RN, CNA, MD, PT, MD, Medic, TECH, Paramedic (PARA),  Doctor (DR), Pharmacist (PHAR),  Nurse Practitioner (NP), Physician (PHY), Respiratory Therapy  (RT),   Medical Assistant (MA), Volunteer (V),
Colors Codes: BL- Blue, YL-Yellow, GR-Green, Red-RD, Black-BK, OR-Orange, PR-Purple
View our catalog for even more options!