Binding Machine – Akiles Duo Mac Series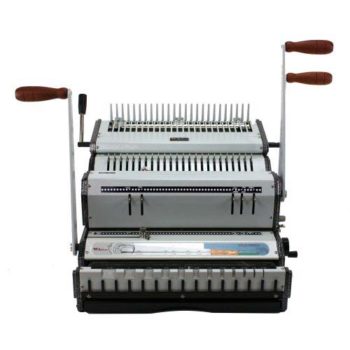 Binding Machine – Akiles Duo Mac Series
$799.00
Two-in-one manual punch for comb, coil, or wire
Choice of two die sets
Punch capacity: up to 20 sheets (20 pound paper)
Closing capacity: 3:1 and 2:1 pitch for wire; and 19 ring comb
All metal construction
One year manufacturer warranty
 The Akiles DuoMac Series combo binding machine allows users to customize their machine with not one, but two sets of die. Users can choose any combination of comb, coil, or wire die sets for ultimate user flexibility. This is the perfect solution for those who need access to multiple binding methods but don't want to spend money or space on separate machines.

This manual combo binding machine is optimized for the small-to-medium-sized office application and budget. If you're looking to save both money and space, choose the Akiles DuoMac combo binding machine.
Manufacturer's video of the Akiles DuoMac Series in action
Akiles DuoMac Series User Manual
Manufacturer's brochure

Features
Fully disengageable dies
Open punch sides and continuous punch guide
Customizable die sets
Built-in wire closer
Included comb opener (when comb die set is selected)
Coil inserter sold separately.