Wire Closer – Akiles WBM532 Modular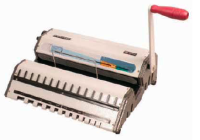 Wire Closer – Akiles WBM532 Modular
$309.00
The WBM532 is a heavy-duty modular wire closer that allows you to easily close all standard binding wires (from 3/16" up to 1-1/4" in diameter), in any pitch and any length. Its simple-to-use all-metal construction design guarantees high productivity and durability.
The innovative closing control mechanism provides fast and accurate setup of the wire closer. Gradual adjustment design guarantees an exact and secure wire closure every time.
This Heavy-Duty Modular Wire Opener features:
Maximum Binding Thickness of up to 1-1/4″ diameter
Maximum Binding Length of 14″ and up (with open-ended closing channel).
Innovative Closer Control Mechanism guarantees fast & accurate wire closing.
Vertical Closing Mechanism with Angled closing Channel, for easy operation and improved viewing & wire positioning.
Built-in Wire Holder holds the wire in position, so that punched sheets can easily & quickly inserted into the duowire.
Built-in Diameter Size Selector determines the best wire to be used.
Built-in Diameter Scale helps verify the wire diameter.
Modular Design & Heavy-duty all metal construction.
1 Year Warranty
Weight 24 lbs.
Works great with our double loop wire bindings!