Booklet Mac – Semi-Automatic Booklet Maker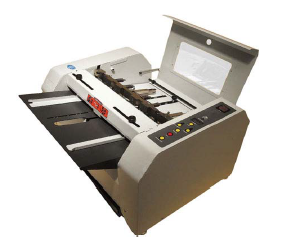 Booklet Mac – Semi-Automatic Booklet Maker
$1,869.00
Now you can create professionally-made booklet publications in the comfort of your own shop/office. The Booklet Mac is fast and easy to use, allowing you to produce up to 800 booklets per hour and punch up to 16 sheets of 20 lb. paper.
Its versatile functions give you the option of fold/staple, fold only or staple only.
Compact: Fits comfortably in your office, school, church or print shop
Easy to operate: No warm-up time. Simply insert the sheets, and the machine will
and fold into a book in seconds.
Versatile: Make booklets from all common paper sizes, including Letter, A4, A3, Legal or 11" x 17"
Heavy-duty: Stapler heads provide many years of trouble-free booklet making (2-4 heads)
Quick and Easy set-up: No tools required to switch between booklet sizes.
modes are manual / automatic.
Precise: Built-in LCD counter gives you precise control of your job progress.
window allows you to monitor the operation easily.
Maximum Booklet Sheets: Up to 16 sheets of 20 lb. bond
Maximum Paper size: 12.5" x 17.75"
Minimum Paper size: 4.75" x 8.25"
Convenient: Use regular chisel-point staples (26/6 or 26/8) or loop staples (Ri 26/6).
Staple" warning light indicates when staples have run out.
One year warranty
Weight 88 lbs.