Thermal Binder: Pro-Bind 2000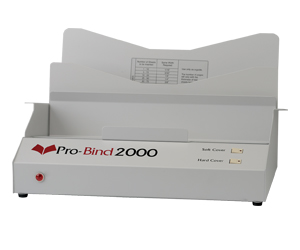 2 in stock
Thermal Binder: Pro-Bind 2000
$695.00
Binding thickness capacity: up to 2"
Binding width capacity: up to 14.75"
Hardcover & softcover: Yes
100 1/8" Free Utility Covers (Clear front / Black back)
60 1/4" Free Utility Covers (Clear front / Black back)
Free continental US ground UPS shipping
Save an extra $100.00 with promo code hotdeal
The Pro-Bind 2000 thermal binding machine is relatively small and perfect for desktop use. Weighing in at just under 19 pounds, this perfect binding machine can be set up, transported, and stored easily. One-button operation and no warm-up time means you can get started quickly and easily. With multiple binding channels, the Pro-Bind 2000 can bind multiple documents at once, and with 30 cycle times for soft cover documents and 60 second cycle times for hardcover documents, you'll spend less time binding and more time doing—everything else on your to-do list. 
Learn More
Manufacturer's video of the Pro-Bind 2000 in action
Additional manufacturer video
Features
1. One touch operation—for simple operation
2. No warm up require—for faster start-up
3. Multiple bind channels—for time efficiency
4. All metal construction—for long-term durability
5. Small profile—for use in small or large spaces
6. Don't forget to purchase a Pro-Bind Hardcover Crimper with your Pro-Bind 2000!
7. This thermal binding machine comes with a one-year manufacturer warranty.