Shrink Wrap System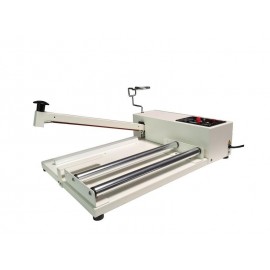 Shrink Wrap System
$360.00 – $680.00
Seals the open ends of the packaging
All steel construction
Dirt, moisture, and tamper resistant
I-Bar sealers are used for applying shrink wrap products. The heated bar (for models with the sealer built in) seals the open ends of the packaging, and then a separate heat gun is used to shrink the polyolefin or PVC wrap so that it closely adheres to your product, creating a beautiful, professional finish that is dirt, moisture, and tamper resistant.
Depending on the model, I-Bar sealers may include a cutter (blade included), heat gun holder, and/or timer. Film and heat gun are sold separately.
Multiple models and sizes available depending on your needs

Models with cutters available (note: cutter models accommodate widths 2" shorter than the sealing length because the cutter stops 5/8" short of the seal end.
Features
All steel construction–for durability and stability

Roller film dispenser–for easier, faster production

Built-in AC outlet–only one 110v outlet needed for entire system

Complete isolation circuitry–for safety