Double Loop Wire Bindings (100 count) – Clearance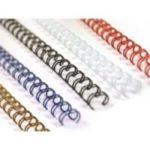 Double Loop Wire Bindings (100 count) – Clearance
$15.00 – $19.00
Good choice for a permanent look
Limited quantities and styles
Pitch types: 3:1 or 2:1
Double Loop Wire Bindings is a good choice for a permanent high-tech look. It comes in a 3:1 pitch in diameters 1/4″ through 9/16″ and a 2:1 pitch in diameters 5/8″ through 1″.  Pre-cut elements for 11″ edge.
Wires come in two different pitches, 3:1 pitch is 3 holes per inch and 2:1 pitch is 2 holes per inch.  All wire binding come in either boxes of 100 or 50 depending on size. 
Need more information on how to select the right wires for your project?
Check out our Double Loop Selection Guide.
Other colors are available: Red, Blue and Gold
Contact our office for availability, minimum order may apply.