Coil Binding Machine – Coil Mac EPI+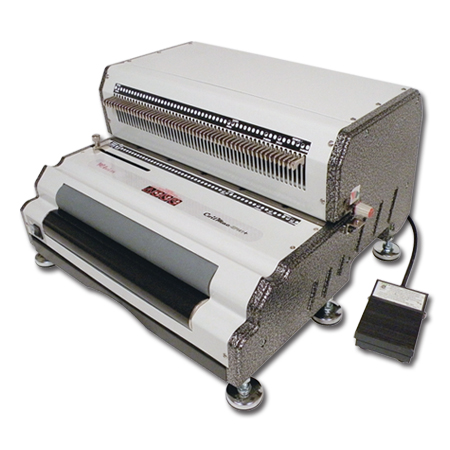 Coil Binding Machine – Coil Mac EPI+
$2,049.00
Heavy-duty Electric Punch & Inserter
Binding capacity: up to 1" (electric), 2" (manual)
Punch capacity: up to 25 sheets (20 pound paper)
Pitch: oval holes, 4:1 pitch
One year manufacturer warranty
Price includes Free US ground shipping
The Akiles CoilMac EPI+ is built to work, with it's heavy duty punch motor, built-in electric coil inserter, and all metal construction.  The electric reverse function for reducing jams, the U-shaped alignment channel for automatically shaping your document spines for coil insertion, and the extra large chip tray makes for a more efficient workflow with fewer interruptions. If you're looking for an all-electric coil binding machine that can handle commercial volume workloads, consider the Akiles Coil Mac EPI Plus.
  Features
All metal construction

All electric operation

Electric Foot Pedal Switch

Industrial grade roller motor

Electric reverse function

54 disengageable pins

Side & Punch margin controls

Crimper included


Weight: 75 lbs.
Learn More
Akiles CoilMac-EPI Plus User Manual
Manufacturer's brochure