Slot Punch – Desk top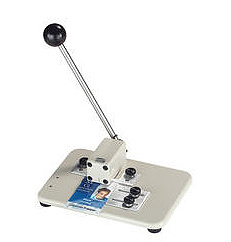 Slot Punch – Desk top
$275.00
Table top design
Durable steel base with non-skid rubber feet
Punch capacity: 60 mils
One year manufacturers warranty
The manual tabletop slot punch is built on a durable steel base with non-skid rubber feet. This slot punch can handle cards that are up to 60 mils thick and features hardened steel dies. The centering guides allow for perfect slot placement every time on a variety of shapes and sizes of material. This machine punches slots that are 9/16″ by 1/8″.
Features
Tabletop design—for better leverage on thicker materials

Adjustable side guide—for easy horizontal centering

Adjustable depth margin guide—for easy vertical centering

Steel construction—for durability

 

Weight:  4 lbs.