Velo Binding Machine – SecureBind V2000-Pro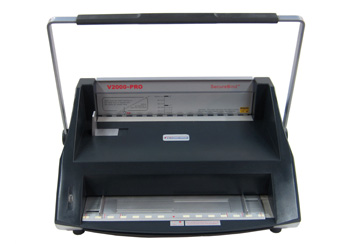 Velo Binding Machine – SecureBind V2000-Pro
$1,095.00
Hot Knife System
Max punch capacity: up to 20 sheets (20 pound paper)
Max binding thickness: up to 2" thick (20 pound paper)
Max binding length: 14"
One-year manufacturer warranty
The SecureBind V2000-Pro velo binding machine is simple to use, so you'll spend more time binding and less time setting up and fiddling with settings. The single handle manual punch can handle up to 20 sheets of 20 pound bond at a time and the adjustable side margins means your punch will be perfectly centered every time.
The hot-knife binding system completes a binding cycle in 8 to 10 seconds and automatically trims the excess off the velo binding strip, which means one less step for the user to manage. If you're looking for a basic, easy-to-use velo binding machine, the SecureBind V2000-Pro is exactly what you're looking for, and more!
Features
Hot knife system—for durable, secure bindings
Adjustable side margins—to avoid awkward half pucks off the page margins
LED light display—shows machine progress and allows user to know when the binding process is completed
Short binding cycle—for faster binding