Pouch Laminator Starter Kit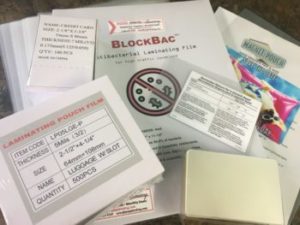 Pouch Laminator Starter Kit
$29.95
Varity Package - for use with Thermal Pouch Laminator
Includes: Special-Covid size, Anti Bacterial and Magnet pouches
Customize your luggage tags, duffel bags or backpacks
Kit includes new Covid vaccination card size
Try our pre-cut laminating pouches and accessories!  Kit includes our NEW size for covid vaccination cards, magnet pouches and our most popular sizes.  Make your own personalized name badges, luggage tags, and menus.
Items you can laminate:
Certificates, signs, awards, licenses, passes, ID cards,  news paper clippings and so much more!
Kit includes:        
40 Letter-5  (9″ x 11-1/2″)
10 Antibacterial-4 mil  (9″ x 11-1/2″)          
1  Letter-3 Magnet  (8-1/2″ x 11″)
10 Special-Covid size 7m mil  ( 3-1/8″ x 4-1/2″) 
10 File Card 7 mil  (3-1/2″ x 5-1/2″)
10 Military Card 5 mil  (2-5/8″ x 3-7/8″) 
10 Credit Card  5 mil (2-1/8″ x 3-3/8″) 
10 Luggage Tag with slot 7 mil  (2-1/2″ x 4-1/4″) 
10 Clear Plastic Loop Straps