Wire Closer – HD8370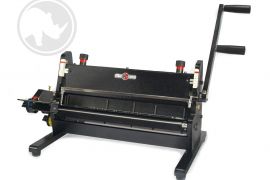 Wire Closer – HD8370
$2,199.00
14" Wire Inserter and Closer... in 1 easy step
Binding Capacity: 1/4" to 9/16" 3:1 pitch
Lightweight and portable
All metal construction
Three year manufacturer warranty
The HD 8370 wire inserter/closer closes 3:1 pitch double loop wire in one easy step. eliminating manual insertion of wire into documents.
It easily adjusts from 1/4 inch to 9/16 inch. (6mm to 14mm) Can be used as a stand-alone or mounted on any vertical Rhin-o-tuff OD or HD pinch (optional mounting kit available)     
Watch the Video
Works great with our double loop wire bindings.
Weight: 37 lbs.