Wire Closer – HC8318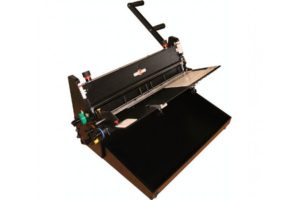 Wire Closer – HC8318
$2,799.00
18" Wire inserter / closer
Lightweight and portable
All metal construction
Warranty: 3yr. machine / 1yr. punching dies
Price includes Free US ground shipping
The Rhin-o-tuff HC8318  wire closer is an affordable, easy to operate machine for short runs and yearly calendar applications.
Formatted documents with or without wire hangers can be bound into the book as the wire is closed. Binds documents up to 18 inches in length.  
Features
Binding Capacity: 1/4″ to 9/16″  3:1 pitch
Slide-out table extension (for larger documents)
Binds split wire with Calendar Hanger
Lightweight and Portable
Weight: 56 lbs.