Laminating Film – Matte Smooth Touch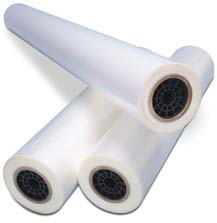 Laminating Film – Matte Smooth Touch
$151.00 – $171.50
Premium ultra matte film
Preserves image color
Scuff and scratch-resistant finish
2 film options
Combine Sizes and Styles for maximum quantity discounts
Quantity Discounts on 10 or More Rolls!
Smooth Touch Film is a durable, ultra-matte finish thermal roll laminate film that minimizes glare while preserving image color. It is one of the most popular finishes available in the printing market, creating a luxurious appearance that engages the user and increases the perceived value of the finished product.  A premium ultra-matte film with a velvet feel is perfect for prestigious applications. Pricing Link: Film Matte 1 inch-P
The abrasion-resistant surface won't scuff or scratch during production or shipping, resulting in fewer returns. The result is an increase in sales coupled with higher margins for a premium product. The suede feel of the finish is soft and subtle, taking your finished product to a different level. 
Features:
●Core: 1″
●Finish: Matte
●Adhesive: In
●Priced per roll
●Minimum order 2 rolls