Wire Closer – Flexi Closer 1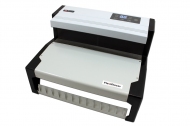 Wire Closer – Flexi Closer 1
$1,499.00
Automatic Wire Closer
Compatible Wire Pitch: 3:1 and 2:1
Wire Closing Range: 1/4" to 1-1/2"
One year manufacturer warranty
The Akiles FlexiCloser 1 is the world's first automatic wire closer with the smart detect system. This unique system allows the FlexiCloser to automatically detect the wire size and adjust the closing pressure as needed for 3:1 or 2:1 wires with the simple touch of a button. The magnetic back aligns and holds the wire securely in place during the closing process.
Features
Closing system: Horizontal, with Magnetic Back Wall

Safety Sensor

Wire Holder

Smart Detect System

Weight: 27 lbs.

Optional Mount with the FlexiPunch
Works great with our double loop wire bindings.