Face Shield – Mouth/Nose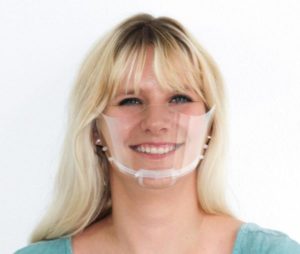 Face Shield – Mouth/Nose
$17.95
Face shield can be disinfected
Lightweight chin support
Adjustable elastic bands
A practical solution for wearing a mask.
This clear face shield covers both mouth and nose to effectively block droplets, while simultaneously enabling easier breathing due to mouth-to-face-shield distance and preventing eyeglasses from fogging up. Face shield can be disinfected easily for repeated use,
while lightweight chin support holds it securely in place and the adjustable elastic bands allow comfortable all-day wear. Ideal for teachers, office workers, restaurant employees, salon and spa practitioners, pharmacy and grocery store personnel, and medical staff.
One set includes a mouth/nose band with chin support, two plastic face shields, and four elastic bands. For those times when covering your smile, inhibiting communication, and wearing a mask over your face are impractical, we have a solution!