Comb Binding Machine – Akiles MegaBind-1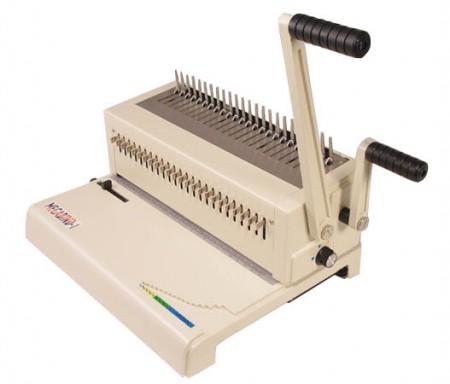 Comb Binding Machine – Akiles MegaBind-1
$335.00
High quality, versatile, durable comb binder
Great fit for office or production environments
Punching capacity: up to 25 sheets (20 pound paper)
Binding capacity: up to 2"
Manual Punch & Comb Binder
•Binding capacity: up to 2"
•Punching capacity: up to 25 sheets (20 pound paper)
Description
The Akiles MegaBind-1 comb binding machine is a versatile, durable comb binder which will fit equally well in an office environment and a production environment. With its disengageable pins and double handle system, it'll help you produce beautiful, high-quality comb-bound documents as quickly and efficiently as possible. If you're looking for a high-quality comb binding machine, the Akiles MegaBind-1 is the perfect option for you.
Features
Double-handle system—allows more efficient work flow by allowing user to punch and bind simultaneously or independent of each other

Continuous binding control—allows user to bind longer documents (from the left side only)

Fully disengageable pins—allows punching of all paper sizes and avoids awkward mid-margin punches

Side margin control—allows user to center punches down spine regardless of document size

Punch margin control—allows user to adjust punch-margin depth for comb size to allow documents to open more easily and to make documents more durable

 One-year manufacturer warranty.
Learn More
Akiles MegaBind-1 user manual
Akiles MegaBind-1 manufacturer's brochure