Comb Binding Machine – MegaBind-1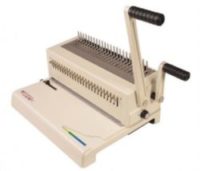 Comb Binding Machine – MegaBind-1
$345.00
High quality manual punch & binder
Great fit for office or production environments
Punching capacity: up to 25 sheets (20 pound paper)
Binding capacity: up to 2"
One year manufacturer warranty
The Akiles MegaBind-1 comb binding machine is a versatile, durable comb binder which will fit equally well in an office environment and a production environment. With its disengageable pins and double handle system, it'll help you produce beautiful, high-quality comb-bound documents as quickly and efficiently as possible. If you're looking for a high-quality comb binding machine, the Akiles MegaBind-1 is the perfect option for you.
Features
Double-handle system

Continuous binding control

Fully disengageable pins

Side margin control

Punch margin control

 Weight: 31 lbs.
Learn More
Akiles MegaBind-1 user manual
Akiles MegaBind-1 manufacturer's brochure