3 Ring Binders – Price per case of 12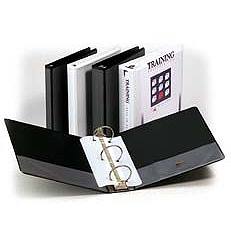 3 Ring Binders – Price per case of 12
$42.00 – $79.50
Display your ideas clearly
Binders hold 8-1/2" x 11" sheets
Colors: Black or White
Sizes: Round 1/2" to 3" / D ring Sizes: 1" to 3"
Premium clear view 3 ring binders display your ideas clearly. Presentation binders let you customize your project in one easy step! Simply slide your own printed sheets of literature into the opening along the top of the front, back and spine of the matte finish clear overlay binder to personalize your presentation. Ideal for manuals, catalogs, reports, presentation, directories, handbooks and price lists that can be used over and over. Binders hold 8-1/2″ x 11″ sheets.
TIP: The capacity of loose leaf binders is determined by measuring the inside diameter of the ring mechanism. Never measure the spine or backbone of the binder.
Angle D ring      NOTE* D ring binders hold up to 37% more paper than round ring binders
Sizes: 1″ to 3″ Code: 3RD
Colors: Black or White
Price per case of 12
Round ring: Code: 3RR
Sizes: 1/2″ to 3″
Colors: Black or White
Price per case of 12