Roll Laminator – TCC 2700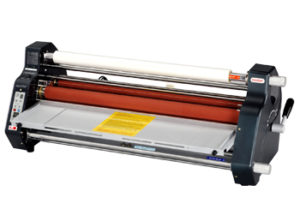 Available on backorder
Roll Laminator – TCC 2700
$1,350.00
Laminating width: up to 27"
Max film gauge: up to 10 mil
Film core size: 1"
Speed: variable, up to 8.8 feet per minute
One year warranty
The TCC 2700 27" Heated Roll Laminator is a great starter machine for schools and small offices that need to laminate a large variety of materials with a large variety of film thicknesses. The TCC2700 has ample features to make it easy to use, while keeping the price low enough to keep it affordable for those who don't wish to spend a large amount of money on a heated roll laminator. The durable heavy duty chain and sprocket drive are low maintenance and promise to keep the rollers turning for a very long time. 
Learn More
TCC 2700 user manual
TCC 2700 manufacturer video
Features
Variable speed—adjustable speeds to allow best results with different film thicknesses
Adjustable pressure—spring loaded rollers adjust to accommodate a wide variety of material thicknesses
Adjustable tension—for optimal results on any material

Silicone heated rollers—for easier cleaning
Clear safety shield—allows user to see their work while providing additional safety from accidents
Reverse switch—for clearing misfeeds
Audible "ready" signal—allows user to multi-task while waiting for warm-up
Speed: variable, up to 8.8 feet per minute
Dimensions: 31″ (L) x 15″ (H) x 18″ (W)
Weight: 110 lbs.