Pouch Laminator Kit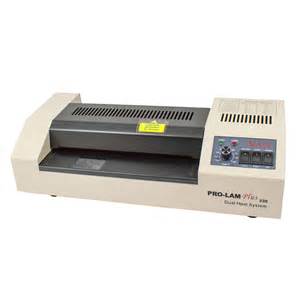 Pouch Laminator Kit
$379.00
Laminator Kit:  $339.00



1 Pro Lam Plus 13″ Pouch Laminator
100 Letter size 4 mil Anti-bacterial pouches  (9″ x 11-1/2″)
100 Menu size 3 mil pouches  (11-1/2″ x 17-1/2″) 
Free Shipping
Description
The Pro-Lam Plus 330 has a unique combination of features that make it the ideal choice for all types of professional applications. This dual heat system (heated rollers and heated plate combination) allows for a more efficient lamination at lower temperatures.
Max Laminating Width 13″
Preset speed
Laminates 3 Mil to 10 Mil Thickness
Number of Rollers: 4 (2 Heat / 2 Cold)
Maximum Speed: 22″/min.
Heat Plate
Metal Cover
Forward / Reverse Switch
Power Switch / Light
Paper Carrier: not required
Operating Temperature: 176–320° F
Dimensions: 7½" x 20¼" x 4¼"
Weight 20 lbs.