Pouch Laminator Kit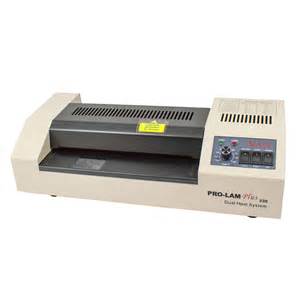 Pouch Laminator Kit
$399.00
Pro Lam Plus 13" Pouch Laminator
100 Free Letter size 4 mil Anti-bacterial pouches 
(9" x 11-1/2")
100 Free Menu size 3 mil pouches  (11-1/2" x 17-1/2") 
One year machine manufacturer warranty
Price includes Free Supplies
Description
The Pouch Laminator Kit offers the  Pro-Lam Plus 330 + pouch laminator with it's unique combination of features that make it the ideal choice for all types of professional applications. This dual heat system (heated rollers and heated plate combination) allows for a more efficient lamination at lower temperatures.  Along with our high quality laminating pouches to help get you started. 
Applications include: certificates, awards, news articles, pricing sheets, safety guidelines and so much more…. 
Laminator Features:
Max Laminating Width 13″
Preset speed
Laminates 3 Mil to 10 Mil Thickness
Number of Rollers: 4 (2 Heat / 2 Cold)
Maximum Speed: 22″/min.
Heat Plate
Metal Cover
Forward / Reverse Switch
Power Switch / Light
Paper Carrier: not required
Operating Temperature: 176–320° F
Dimensions: 7½" x 20¼" x 4¼"
Weight 20 lbs.